Floor Decals and Graphics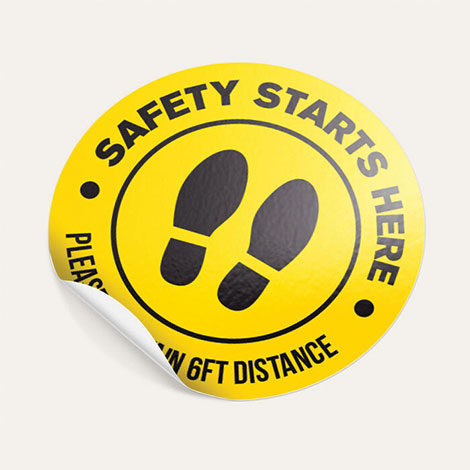 Removable Adhesive
Slip Resistant Over lamination
Full Color or Spot Color Print
Grab Attention with our new Floor Decals, design to help you advertise or convey safety messages. Our Custom Floor Decals are a perfect setup for any store.
These Decals give a great look with a slip resistant Over lamination for safety and durability. You can order these decals in Full Color Print or you can get Spot Color Floor Decals.
These floor decals also come with a special removable adhesive for easy removal.
Floor Decal Material Types:
- White Removable Vinyl
- Yellow Removable Vinyl

Store Aisle Floor Decals

Pathway Floor Stickers

Safety Floor Decals

Full Color Floor Decals

Laminated Floor Decals
Floor Decal Uses
- Store Aisles
- Concrete Floors
- Safety Markers
- Attention Grabber Decals
- Product Awareness
Floor Decal Info
These floor decals, sometimes called floor stickers are a great advertising method for many businesses and stores. These decal offer offer lamination for safety and durability. Many great uses include grocery stores, hardware stores, walking pathways and more. Drive you message home with our floor decals with your customers. Available in White and Yellow Removable vinyl, these decals can be full color print or using specific spot colors.
Our fast production team can get these floor decals done in as little as 5 working days. We can get these done in all shapes and sizes!
Other Products might include: Removable Decals, Static Cling Decals, and Heavy Duty Decals.