Oil Change Decals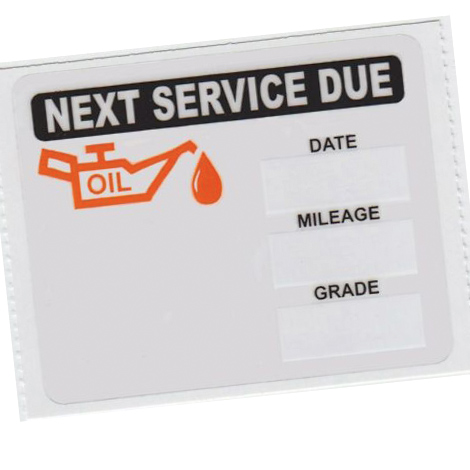 Static Cling (back static)
Individually Cut or provided on Roll (250 Decals Per Roll)
Most Decals have 5 Day Production Time!
Our Oil Change Decals or Oil Change Stickers are great for windows after an oil change. These Static Cling Decals are a back static cling application. These high quality decals can be great for an inside windshield application, reminding you clients of their next oil change. Some times these decals are called service decals or service stickers to indicate when service is due next for their car or truck.
We offer these Oil change decal is standard sizes or you can get a custom size decal of your own.
Examples...

Oil Change Decals

Oil Change Labels

Next Service Due Stickers

1 Color Plus White Decals

Back Static Cling Decals
Oil Change Decal Info
These Decals, are printed on static cling decal material that is back adhesive. We have a 250 Quantity minimum for these decals. They are flexo printed on a roll for your ease and use. The decals are very affordable and a great value for anyone looking to inform their customers.
Write on White Print
If you use our standard oil change stickers and labels, they come with white for free. For example if you order Blue, then it will automatically come with white to write on. This way you can add the date and the miles that their car's next service is due!
Decal Size Info:
123Decal Prints these decals in standard size, if you wanted a custom sized oil change decal that is fine. Just let us know!
Our Sizes are:
- 2" x 1.5"
- 2.5" x 2"
- Custom Sizes available
---
Stock Designs
Here are our Stock Designs on file for both sizes: (also create your own look)