Security Signs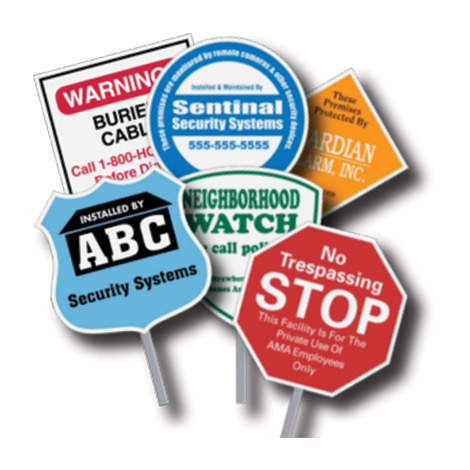 Ourdoor Durable
UV Ink
Standard or Reflective Security Signs Available
Standard .055" Thickness
123Decal has high quality, long lasting security signs. Our security yard signs are screen printed on durable material meant to last and avoid cracking, yellowing and chipping even in the worst of conditions. We offer these signs with a long lasting aluminium stakes(sold separately) that are simple and easy to assemble. View the images below for examples.
Security Yard Sign Info
- All Signs are 9" x 9"
- Standard or Reflective Security Signs Available
- .055" Thickness

Security Signs

Circle Security Signs

Diamond Security Signs

Reflective Security Signs

Durable Security Signs

Badge Security Signs
Security Sign Applications
Security Signs are perfect to advertise your services while deterring crime. These yard signs are a perfect accent for your security system. Not only are they durable, but with our variety of shapes, they have great visual appeal also.
Security Sign Information and Specs
We offer 2 types of Security Signs in all the standard sizes shown above
- Available in Reflective or Standard Material
-.055" Polyethylene Material
- 36" Aluminium Stakes offered (sold separately)
FAST PRODUCTION TIME: Usually these signs can be printed and ready to ship within 5 business Days!